When:
2020-11-07T00:00:00-05:00
2020-11-08T00:00:00-05:00
Where:
Pick Up at Nick's Fish House
2600 Insulator Drive
Baltimore
MD 21230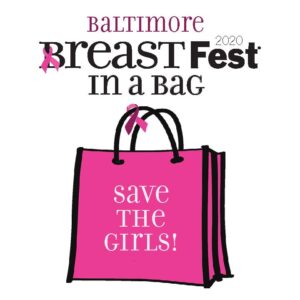 BreastFest Baltimore goes virtual for 2020! Breast Cancer doesn't social distance, but we do. So, this year we're going virtual with BreastFest in a Bag!
Everyone is excited about a BreastFest tote bag full of swag! Enjoy fun and timely items including a roll up blanket, a portable charging bank, a neck gaiter, Tervis Tumbler and more! Plus, enjoy our signature BreastFest cocktail and toast with us to saving the girls from the safety of your own home!
Look out for more details on our live toast event. Purchase your BreastFest in a Bag online, then pick up at Nick's Fish House at 2100 Insulator Drive on Saturday, November 7 from 1-3 pm. (Or, if you prefer, we can mail your bag for an additional $12.95.)
We need you more than ever! TO ORDER: https://form.jotform.com/The_Tyanna/breastfest-in-a-bag
Thank you for your support of The Tyanna Foundation as we raise money to SAVE THE GIRLS!!